Welcome To Hotel K11
05946 281177 / 6396259275
| Room Type | EP (Accommodation Only) | MAP (2 Nights/3 Days) |
| --- | --- | --- |
| Executive Room | ₹3550.00 | ₹9333.00 |
| Deluxe Room DBL | ₹3250.00 | ₹8666.00 |
| Superior Room | ₹4200.00 | ₹10555 |
| Heritage Villa | ₹5500.00 | ₹14222.00 |
Hotel K11 Heritage
Location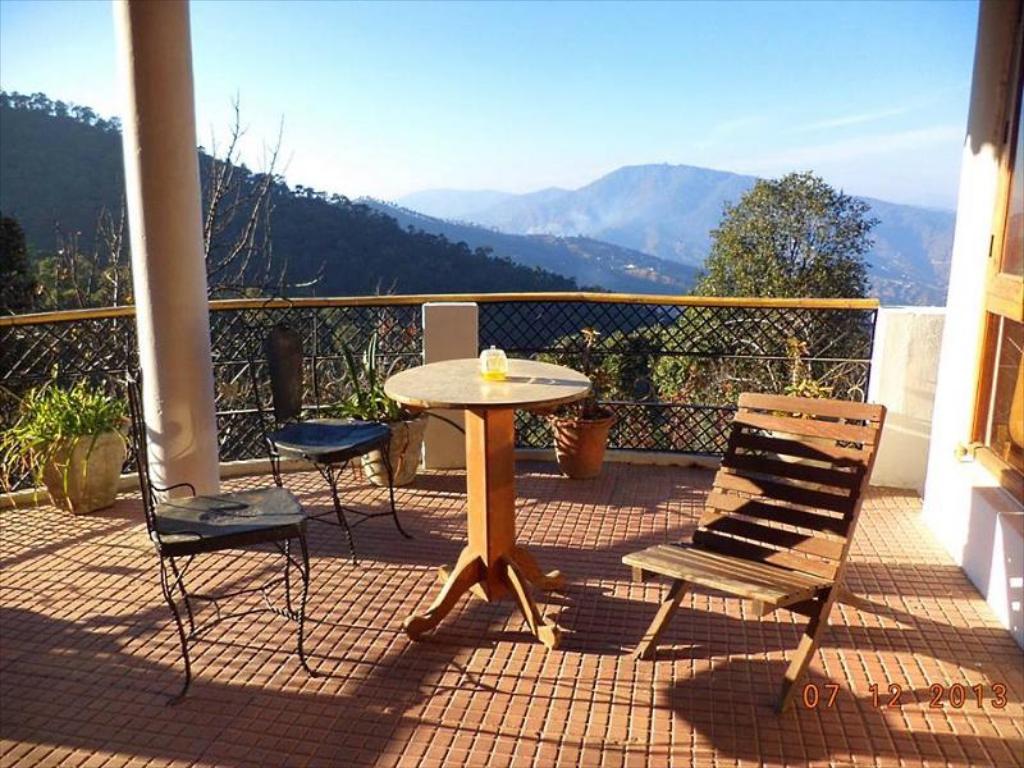 HOTEL K11 HERITAGE is Located in Peora, a small village nestled between the Kumaon Hills in the state of Uttarakhand. Situated at an elevation of 6000 feet, this place is serene and tranquil with natural beauty in abundance.
Peora is a beautiful village with number of British Era bungalows to spread the rustic vibes around. The scenic beauty with snow-capped mountains, juicy fruit-laden trees, green meadows and a variety of fauna is inexpressible. This place is perfect to unwind and spend some quality time with your loved ones or to cherish solitude. Peora is a hidden gem that is bountiful in scenic beauty and picturesque views that makes it a perfect getaway.
POPULAR DESTINATIONS NEAR BY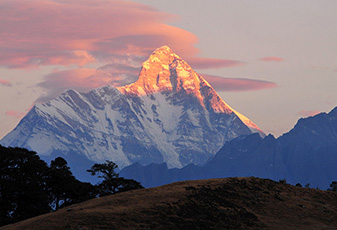 Nanda Devi
Nanda Devi is the second highest mountain in India after Kangchenjunga and the highest located entirely within the country. It is the 23rd-highest peak in the world.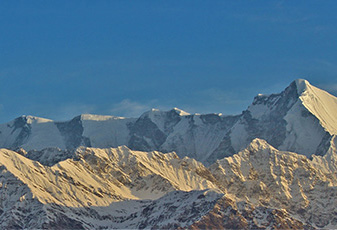 Maiktoli
Maiktoli is a mountain of Garhwal Himalaya in Uttarakhand India. It stands at 6,803 metres. It is jointly the 32nd highest located entirely within the uttrakhand India.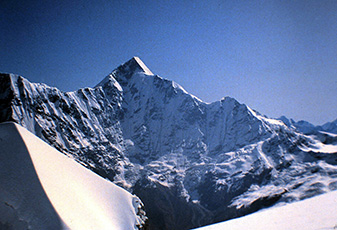 Nanda Kot
Nanda Kot is a mountain peak of the Himalaya range located in the Pithoragarh district of Uttarakhand state in India.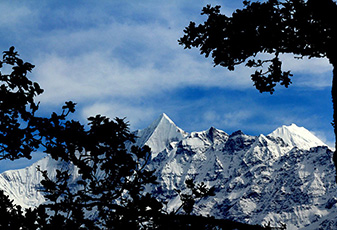 Panwali Dwar
Panwali Dwar is a mountain of the Garhwal Himalaya in Uttarakhand India.The elevation of Panwali Dwar is 6,683 metres and its prominence is 763 metres.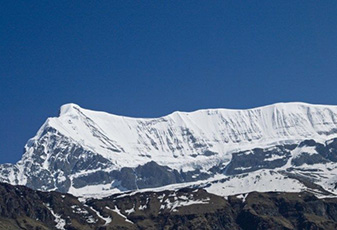 Mrigthuni
Mrigthuni is a mountain of Garhwal Himalaya in Uttarakhand India. Mrigthuni standing majestically at 6855 meter 22490 feet. Its joint 28th highest located entirely within the uttrakhand India.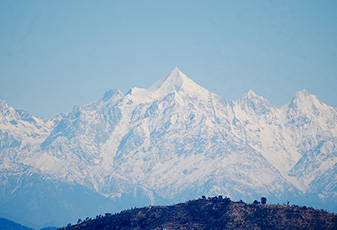 Trishul
Trisul is a group of three Himalayan mountain peaks of western Kumaun, with the highest reaching 7120m. The three peaks resemble a trident - in Hindi/Sanskrit, Trishula, trident, is the weapon of Shiva.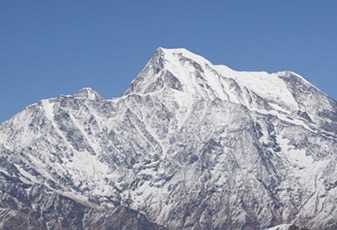 Nanda Ghunti
Nanda Ghunti is a 6,309-metre-high mountain in Garhwal, India. It lies on the outer rim of the Nanda Devi Sanctuary.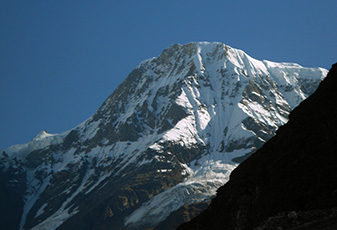 Chnguch
Changuch is a Himalayan mountain peak situated at the boundary of Pithoragarh and Bageshwar district of the Uttarakhand state of India.
Near by
cities
| Cities | Distance |
| --- | --- |
| Almora | 19 kms |
| Mukteshwar | 20 kms |
| Bhowali | 47 kms |
| Nainital | 57 kms |
| Bhimtal | 57 kms |
| Haldwani | 83 kms |
Trekking and Camping
The rolling topography, unknown trails, plush green forests, and narrow tracks make trekking one of the most exciting activities in Mukteshwar. Popular trails are from Peora to Almora, Peora to Mukteshwar, Binsar to Artola Trek and the riverside trek. Night trekking and camping are also popular.
Paragliding
Paragliding is one of the most exhilarating things to do in Mukteshwar. It is a thrilling activity. This is one of the best places for trying paragliding in India as professional guidance ensures that it's a smooth, safe glide over the lovely greenery of Mukteshwar.
Birdwaching
Blessed with an incredible diversity of birds, Uttarakhand is home to about 600+ species of birds that are found in India. And Mukteshwar is the popular destination for birders from all over the world.Bird watching is one of the most popular recreation activities that include wildlife in Uttarakhand.
Fruit orchad tour
Walk into the Mukteshwar Hills, there are many fruit orchards in the village which includes fresh seasonal produce fruits like Nectarines, Peaches, Plums, Cherries, Apricots, Apples, Avocados, Pears, Oranges and Mandarins.Fruit picking in the orchard is not permitted as it may damage or spoil the fruits.
Yoga
Breath in the absolutely clean fresh air of the mountains and detoxify and clean your body right in front of Himalayas. You can practice yoga & meditation early in the morning for an hour then drink the organic green tea prepared on site.We do provide Yoga mats for you or you can bring your own.
Sunrise
Nanda Devi- the second highest peak of India is visible from Mukteshwar mountain tops. The spellbinding view is accentuated with orange and golden hues of sunrise. One of the best experiences in Mukteshwar is witnessing the sun as it rises above the Nanda Devi peak and lights up the small hill-station.
Naulas
Naulas have been an important source of water for people in the mountains especially across Uttarakhand. The literal meaning of 'naula' is ground water spring. Uttarakhand is filled with life and traditions. The smell of traditional winds will help you gain a great experience when you visit Uttarakhand. The temple shaped structures were built around the underground water spring and are considered the energy centres.
How to reach
hotel k11 Heritage
Suggested Route: Delhi - Moradabad Bypass - Tanda - Bazpur - Kaladhungi - Nainital - Bhowali - Kherna - Kwarab - Talla Peora (Estimated 8 hrs)
Direct flight from Delhi - Pantnagar (1 hr)
Taxi from Pantnagar to Peora (3hrs)
Delhi - Kathgodam (6-6.5 hrs)
Taxi from Kathgodam to Peora (3 hrs)
Customer
Reviews
Very nice place. good (Best) food and very clean though take time in servicing- very close to main road – rooms spacious – value for money and enjoyed the stay very much – food options were amazing

Ashish Chaudhary Company: HSBC , (MANAGER FINANCE SYSTEMS)
I stayed in hotel for 3 days and had a wonderful time ….it had amazing food yumm , good chilling place and most importantly in Haldwani great location .

REKHA SHARMA Company: Conduent , (Service delivery manager)
I loved staying in this hotel. The staff is very friendly. Lovely food and a very clean hotel near Kathgodam. Shopping streets, restaurants n loads more just a few minutes away. Perfect service! Would love to stay there again.

Dr. Manish Sharma Hospital: ESI ,(Chief medical officer)
If you want to chill out in a Hill city like Haldwani then four seasons will be a far better choice for your stay. it's prime location. The quality of the rooms are too good and even they are quite affordable.

Miss Ravi Kumari Delhi